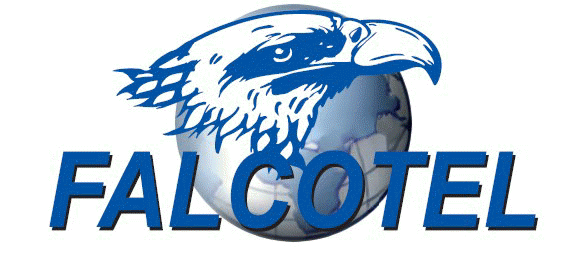 Broadband FM
Directional
Panels Singol and Double
Paneles
Direccionales de
FM Banda Ancha
Solo y Doble
MOD. FTPAN/SBB/7/16-LC
" " FTPAN/SBB/7/8
MOD. FTPAN/DBB/7/16-LC
" " FTPAN/DBB/7/8

E' UN'ANTENNA MOLTO ROBUSTA PUO' SOSTENERE 5 KW CON CONNETTORE 7/8 MA A RICHIESTA I CONNETTORI DI ENTRATA SI POSSONO CAMBIARE CON 7/16 O LC. DATA LA SUA SPINTA DIREZZIONALITA' CON UN GUADAGNO CONSIDEREVOLE. PUO' ESSERE MONTATA SU TUTTI I LATI DI UN TRALICCIO ED ACCOPIATA IN NUMERO CONSIDEREVOLE. DATO IL SUO PESO A BISOGNO DI UNA STRUTTURA ADEGUATA.


This very sturdy antenna is capable of up to 5 kw of input power. Since it is highly directional it has a high gain. It can be easily installed on any tower face and made up of many elements. Given its considerable weight an adequate structure is very essential.


Esta antena muy robusta puede sostener hasta 5 kw de potencia de entrada. Dado que es muy direccional tiene una ganancia muy alta. Puede ser facilmente instalada en cualquier lado de una torre y compuesta por muchos elementos. Dado su considerable peso una estructura adecuada es muy necesaria.
TYPICAL SPECIFICATIONS:
| | |
| --- | --- |
| ELECTRICAL DATA: | MECHANICAL DATA: |
| MODEL: FTPANSBB//7/16-LC-FTPANSBB/7/8 | WEIGHT: Kg. 32 TO REFERED STAINLESS STEEL |
| IMPEDANCE: 50 ohm | MOUNTING: WHITH STANDARD -CLAMP 50-110 MM. |
| FREQUENCY RANGE: 87.5-108 Mhz | DIMENSIONS: 2000X1400X1000 MM. |
| GAIN: 4.5 dB (half wave dipole) | RADOME: FIBER GLASS (OPTIONAL) -WHITE |
| TYPICAL - V.S.W.R.: <1.2 : 1 | MATERIALS HARDWARE MOUNTING: STEEL GALVANIZED. |
| POLARIZATION: LINEAR OR VERTICAL | ISULATOR: PTFE (TEFLON) |
| MAX. POWER: MEDIUM POWER 2000 W H POWER 5 KW | DIPOLE: STAINLESS STEEL |
| CONNECTOR TYPE: -7/16 or LC - 7/8 FEMALE | INTERNAL : ALUMINIUM COPPER |
| | WIND LOAD: 75 Kg. 150 Km. Hora |
| | MAX. WIND VELOCITY: 200 Km. Hora |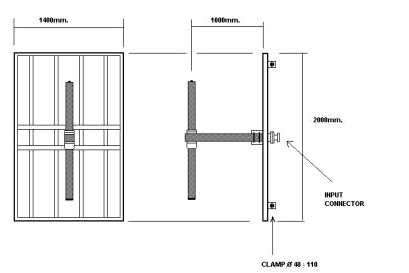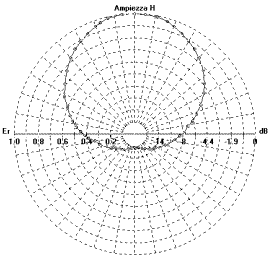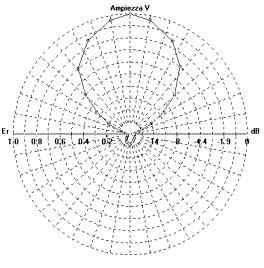 150░ 75░
MOD. FTPAN/DBB/7/16-LC
" " FTPAN/DBB/7/8
TYPICAL SPECIFICATIONS:
| | |
| --- | --- |
| ELECTRICAL DATA: | MECHANICAL DATA: |
| MODEL: FTPANDBB//7/16-LC-FTPANDBB/7/8 | WEIGHT: Kg. 80 TO REFERED STAINLESS STEEL |
| IMPEDANCE: 50 ohm | MOUNTING: WHITH STANDARD -CLAMP 50-110 MM. |
| FREQUENCY RANGE: 87.5-108 Mhz | DIMENSIONS: 2200X2200X1300 MM. |
| GAIN: 7.5 dB (half wave dipole) | RADOME: FIBER GLASS (OPTIONAL) -WHITE |
| TYPICAL - V.S.W.R.: <1.2 : 1 | MATERIALS HARDWARE MOUNTING: STEEL GALVANIZED. |
| POLARIZATION: LINEAR OR VERTICAL | ISULATOR: PTFE (TEFLON) |
| MAX. POWER: MEDIUM POWER 2000 W H POWER 5 KW | DIPOLE: STAINLESS STEEL |
| CONNECTOR TYPE: -7/16 or LC - 7/8 FEMALE | INTERNAL : ALUMINIUM COPPER |
| | WIND LOAD: 190 Kg. 150 Km. Hora |
| | MAX. WIND VELOCITY: 200 Km. Hora |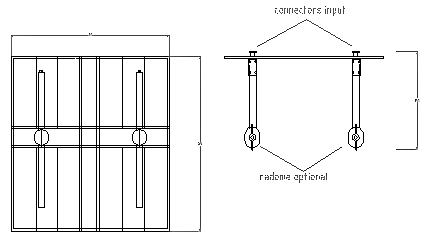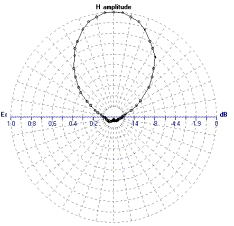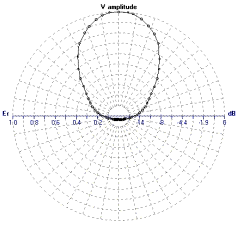 65░ 70░

CREATED BY FALCOTEL FRANCOLINO FERRARA ITALY